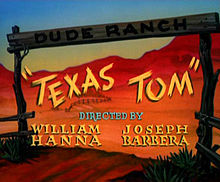 Both episodes were censored... HEE HEEHA! Sorry, it's just so wrong that both has something cut out. "Saturday Evening Puss" was censored because of Mammy-Two Shoe's face. So Chuck Jones replaced her with a white ladie. "Texas Tom" was censored in UK because of cigarettes (wimps in the UK). Triple weird. Laters! See The Original Adventures Of Tom and Jerry:Season 2, episode 11.
Ad blocker interference detected!
Wikia is a free-to-use site that makes money from advertising. We have a modified experience for viewers using ad blockers

Wikia is not accessible if you've made further modifications. Remove the custom ad blocker rule(s) and the page will load as expected.