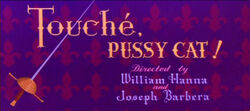 When I uploaded these pictures, the languages for "Touche, Pussy Cat!" said English....of course....and....FRENCH! DID YOU PEOPLE READ THAT?! FRENCH! ENGLISH AND FRENCH! THIS IS...one of my classmate's catchphrase...THAT'S A BUNCH OF JUNK, JACK! Hey, you can watch videos and also read The Original Adventures Of Tom and Jerry: Season 4, episode 3.
Ad blocker interference detected!
Wikia is a free-to-use site that makes money from advertising. We have a modified experience for viewers using ad blockers

Wikia is not accessible if you've made further modifications. Remove the custom ad blocker rule(s) and the page will load as expected.