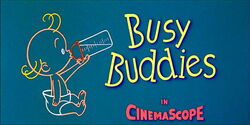 Now...in "Busy Buddies"...the couple,George and Joan...have CHILDREN! The baby is fine, it's just...JEANNIE! Jeannie is a NIGHTMARE to the whole world! Oh, I almost forgot...in 6 more days, the new season is coming! Watch the videos and also read The Original Adventures Of Tom and Jerry:Season 4, episode 9.
Ad blocker interference detected!
Wikia is a free-to-use site that makes money from advertising. We have a modified experience for viewers using ad blockers

Wikia is not accessible if you've made further modifications. Remove the custom ad blocker rule(s) and the page will load as expected.